(Last Updated On: September 4, 2013)
Date:
September 29, 2013
Time:
11am – 6pm
Location:
Marietta Square
50 Park Square
Marietta, GA 30060
Admission:
Admission to the whole hog happening is free, food prices range from $0.50 to $5.00.
Parking:
Free
The great barbecue of the South is the focus of the Annual Whole Hawg Happenin' – a BBQ & Music Fest taking place on the Marietta Square on September 29, 2013 from 11am to 6pm. All proceeds of the Whole Hawg Happenin' BBQ and Music Fest benefit the The Earl Smith Strand Theatre, The Marietta/Cobb Museum of Art, The Gone with the Wind Museum and The Marietta Museum of History. The best metro Atlanta area restaurants and caterers will be on hand offering samples of their tasty bbq and other dishes while a variety of bands will be playing throughout the day.
Attendance is free and tastes of BBQ range from $.50 – $5.00. There will be live music all day, a Classic Car Show, Arts and Crafts, a Beer Garden, and a huge Kids Corner!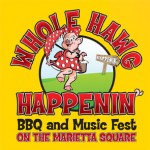 The family friendly BBQ event features:
Tasty BBQ and food. Tastes of BBQ will range from .50 – $5.00 from the best of metro Atlanta's BBQ

restaurants

Food demonstrations
Live entertainment on two stages
Beer Garden
Large Kids Corner featuring fun activities
And more fun and excitement
For more information, please call MaryClaire Andres at (404) 388-6975.